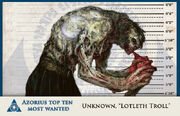 Guild Alignment:
Golgari

Profile:The Golgari often uses trolls as "clean-up" crews for corpses. Many are solitary creatures and aggressive only when threatened. The troll in question had a habit of meeting corpse haulers at the Felden Pipe Entrance to "claim" the corpses. But he grew tired of eating corpses and began eating the corpse haulers. He grew tired of the corpse haulers and began eating random citizens. His hunting patterns have effectively shut down all nighttime transport in the canal district. He eludes capture through the pipes. We believe the Golgari are protecting him.

Most Recent Offense:
Non-ritualistic cannibalism.