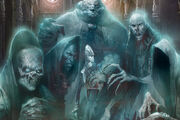 The Orzhov guild is ruled by the Obzedat, a council of ghostly autocrats who have maintained their wealth and power even as they've shed their mortal forms. Members of the Obzedat have managed to cheat mortality, maintaining their consciousness (and their greed) beyond the threshold of death. They are paranoid and spiteful dictators, often going out of their way to thwart ambitious underlings, crush rumormongers, and spy on potential enemies. The Obzedat rarely speak directly with those outside the guild; instead they communicate through their official envoy, Teysa Karlov.
Community content is available under
CC-BY-SA
unless otherwise noted.