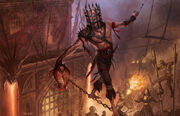 These are the entertainers of Rakdos. This nickname encompasses everyone from acrobats to cabaret dancers to gremlins on unicycles. Many of the madcaps are homicidal deviants whose acts involve gruesome killing displays masquerading as entertainment. Often, the madcaps are the smaller humanoids who couldn't survive in the Rakdos cult on their own, so they compensate by being "artistic." Being a good entertainer gives you enough capital to stay alive.
Community content is available under
CC-BY-SA
unless otherwise noted.