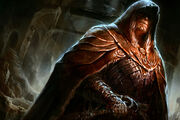 Lazav may be uniquely qualified to be the Dimir guildmaster: he (or she, or it) is a shapeshifting mage whose mysterious genius flashes with telepathic impressions of the entire Dimir network. He shapeshifts into a variety of guises as his needs and plans require; he may step out into the Ravnican streets as an elderly widow to eavesdrop at the bazaar, become a vedalken hussar of the Azorius Senate to sidestep a checkpoint, or transform into a Tin Street merchant to deceive a passing noble. Some Dimir agents believe that Lazav now plots against Niv-Mizzet to discern the dragon's hidden endgame and twist it for his own purposes. 
Community content is available under
CC-BY-SA
unless otherwise noted.