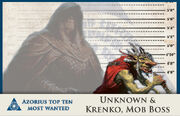 Guild Alignment:
None Profile:The goblin suspect gained entrance into Orzhova through an illegal portal. He was seen entering the quarters of the Ghost Council, which was not in session at the time. He then sprinted through the halls, leading the guards through a seemingly pointless chase. He was finally cornered in the Grand Library, where he took a thrull as hostage. When it was obvious that no one cared about the thrull, he assaulted the guards, set off a bomb, and vanished. The Ghost Council accuses him of theft although it won't disclose the nature of the item he stole, which impedes our investigation. We know that the goblin runs a flourishing organized crime syndicate and has ties to the shadowy Mr. Taz. Whether Taz is the true leader of the syndicate or his own agent is yet to be determined.

Most Recent Offense:
Unlawful use of a portal; using thrull as an incendiary device.
Community content is available under
CC-BY-SA
unless otherwise noted.