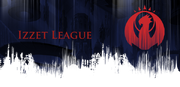 The Izzet are obsessive experimenters, the epitome of a keen creative intellect combined with an unfortunately short attention span. The original mandate of the Izzet guild was to provide solutions for public works projects (sewers, boilers, roadways), but their experiments often produce mana geysers, spatial rifts, or arcane portals instead. As of late, their guild leader, Niv-Mizzet , has driven the Izzet to delve deeper and deeper into more dangerous and experimental magic. The purpose of these experiments is unknown.
The servants of Niv-Mizzet who make up his personal court are referred to as the Izmundi. Niv-Mizzet uses this court to guide his machinations and to keep him abreast of the happenings in the wider world. The Izmagnus are the most powerful members of the Izmundi court, which typically has five to seven members (some members are kept secret). Even members of the Izmagnus are not privy to Niv-Mizzet's highest-level plans and goals.
Izzet Roles
Izzet Locations:
Izzet Attitudes Toward Other Guilds
Community content is available under
CC-BY-SA
unless otherwise noted.