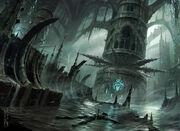 On the rooftop of a massive building known as the Dinrova, the highest-ranked guildmages of the Dimir hold counsel. Normally, the rooftop is closed. During the nocturnal rites, though, the roof panels open, revealing the Dinrova's bat-like architecture, as typical of the Dimir. Specters and other unspeakable horrors patrol the skies above the Dinrova to ward off any prying eyes or unwanted visitors.
Community content is available under
CC-BY-SA
unless otherwise noted.