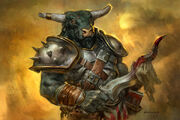 A male minotaur soldier, Grozdan is assigned to arrest or eliminate Rakdos assassins and spree killers. Aurelia's orders state that the threat of random violence is a community-killing disease and must be eradicated. Grozdan's strategy is to target Rakdos locations and hotspots rather than focus on tracking individuals. In the past, the Boros have left the Rakdos pleasure clubs alone until there was a killing or other mayhem that spilled beyond its doors. But now, Grozdan's forces are targeting the clubs—even the ones that make a pretense of being legal establishments. So far, this hasn't affected the Rakdos all that much. Most of their clubs move around so frequently that the Boros can't stamp them out. But Grozdan is very aggressive, even to the point that the Rakdos are getting quite annoyed with him.
Community content is available under
CC-BY-SA
unless otherwise noted.